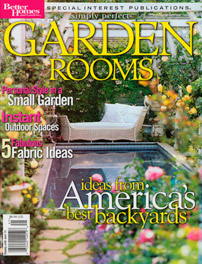 We make the News!
Better Homes and Gardens wrote a 10-page article about "garden rooms in the English tradition", featuring a Seattle garden designed by TZLA Landscape Architects, Tom Zachary and Francine Day.
Better Home and Gardens
Special Interest Publications "Simply Perfect Garden Rooms"
Pages 64-73, 2004©
Photographs by Andrew Drake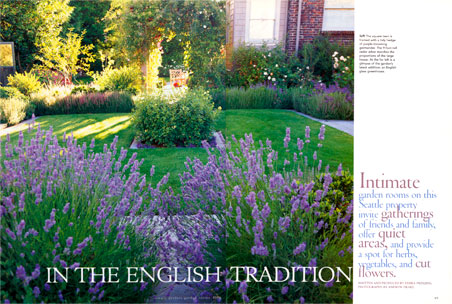 Pages 1 and 2 of the article (pages 64 and 65 in the magazine).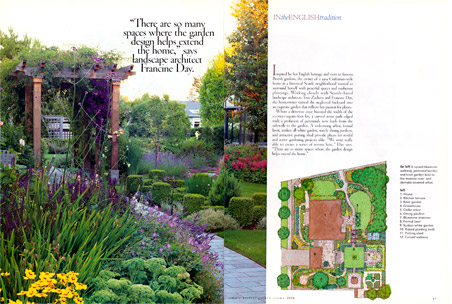 Pages 3 and 4 of the article (pages 66 and 67 in the magazine).


April 16, 2017 - The Seattle Times published: A modern, sophisticated garden was inspired by "the feeling of Japan" in its Pacific Northwest Magazine. This article depicts the creative collaboration that turns an outdated and overgrown garden into a private paradise in Madison Park.
Another Pacific NW Magazine article, Behind the Bungalow, describes the Barbara Huston garden surrounding the historic Betty Bowen residence on Queen Anne Hill in Seattle.
EXCERPT: "Huston's passion for water in the garden was born of a trip to Jerusalem, where she dined next to a fountain in the garden courtyard at the American Colony Hotel. 'It turned me around on water,' she says, giving full credit for her garden's mysterious and musical watercourse to landscape architect Tom Zachary, the latest designer to have a hand in Huston's garden. 'Tom conceived the totality of water in the garden,' Huston explains. In a narrow space along the house's south side, beside steps and pathways leading down into the back garden, runs a unique series of water features elegantly adapted to the steepness of the site."
©July 8, 2001